This year, this town has won a championship in the category of healthy 65-year-old male and female residents in Saitama Prefecture. To celebrate this, the subject event was held at Health Services Center/Welfare Services Center in Hatoyama-machi on a scale larger than usual.

At the request of Regional Comprehensive Support Center in Hatoyama-machi, we performed "a demonstration of the QR code nail jell sticker useful for finding out the elderly who wandered away" together with the staff of this Center in a borrowed corner space at this Center.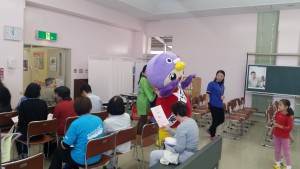 The Hatoyama-machi poster child "Hearton" also participated in this event, so the event was held in a conciliatory mood.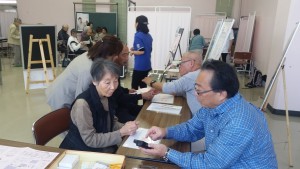 We had the 200 people who first came here attach our "QR code nail jell sticker" to their nails.Some participants told us that they want to buy this item on a personal basis.We would like to make it available as requested in the future.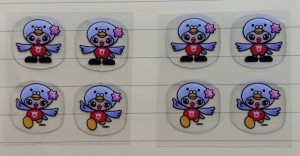 This time, aside from the QR code nail jell sticker, we have created a special QR nail jell sticker for "Hearton" which is a poster child for Hatoyama-machi with the approval of the Industrial Promotion Section of this town.This sticker was received well by the women who actually pasted it on their nails.

This time, we were able to obtain opinions from various people who came to the event site where we were allowed to set up our presentation booth and to paste the "QR code nail jell sticker" and "Hearton sticker" on their nails.This reminded us of a fresh mind at the time of establishment of our company.In other words, this occasion was such a special day that we would like to reset ourselves, or continually commit ourselves to our business in good faith from now on.Many thanks to Regional Comprehensive Support Center and Industrial Promotion Section in Hatoyama-machi for giving us this opportunity.