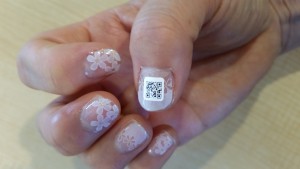 Recently, we often hear such words as "cosmetic therapy" and "welfare manicurist" in Japan .The former is a concept to vitalize elderly people by an effect of makeup. The latter refers to existence of dedicated manicurists who vitalize elderly people by providing manicure on their nails.
We have developed nail seal with sophisticated design this time in empathy with such concepts. On a previous day, we visited a caregiving salon and put the nail seal with sophisticated design on their nails in combination with our QR code nail jell sticker. Then, we heard a story from the head of caregiving salon that "facial expressions of elderly women whose nails were actually put with the seals turned brighter than usual." Nail seal with sophisticated design seems to be effective to maintain and improve QOL (Quality of life) of elderly people.
We provide nail seal with sophisticated design too in the future. We hope everybody with and without dementia to enjoy nail seals. We are convinced that the nail seal with sophisticated design is useful for events such as health and welfare festivals.
Please do not hesitate to consult with us.