Since last year, "Simulation training for protecting wandereres" has also been offered in Iruma City this year.From this year on, the name of this training is changed to the "Training for saying something to anyone wandering away." The training was given in two areas of Kaneko and Higashimachi under the new name. The training was hosted by "Committee for creating a town with the safety net for those who wandered away, and was implemented with the participation of the staff of Elderly Welfare Department of Iruma City and Sayama Police Station seemingly in an organized way.Moreover, the junior high school students in both areas also were participating. We considered it important to watch for the safety of dementia wanderers with the participation of as many people as possible from the region as a whole.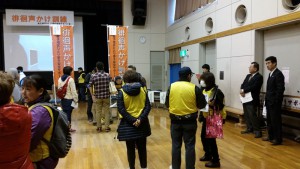 We were briefed on the training beforehand. Cautions for playing the roles of leaders, wanderers, those who say something to the wanderers, and note-takers were explained.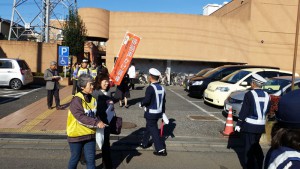 Let's get the training started.
Be careful about three types of "Don't" in saying something to the wanderers.
Do not surprise
Do not rush
Do not hurt one's pride.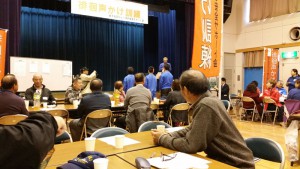 In the end, a party was held for information exchange after light meals.There were many opinions such as "It was actually difficult to say something to the wanderers" and "I am wondering if the training will be provided in other regions."Finally, the junior high school students were brought in, who participated in the training. We felt that it would be promising in the future.